Fall Roundup of Chincoteague Ponies on Assateague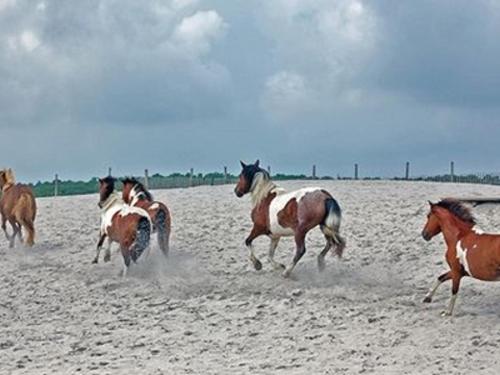 October 14th - 15th, 2016
The Chincoteague Volunteer Fire Company holds two other round ups during the year besides the July Pony Penning Round Up; one in the spring and one in the fall. The purpose of these two extra round ups are an overall health check on the ponies and to see any new foals that have been born. They usually take place on a Friday afternoon and Saturday morning usually in April and October.
On Friday afternoon, the cowboys will round up the southern end of the pony herd and corral them into the south pen on road going out to the beach on Assateague. This round up usually takes a couple of hours and there is plenty of parking access to the ponies for the crowd to see. Once the ponies are in the pen, then the crowd can come up to the fence and take pictures etc……..
Saturday morning the cowboys head up the service road to round up the northern end of pony herd and corral them into the north pen. The northern end round up takes about 5-6 hours to complete because of the amount of ponies in the northern herd and the amount of land that has to be covered to round up the ponies. This is area is not as easily accessible to the public because it requires a three mile walk up the service road and then wait for the ponies to come into the corral and then a three mile walk back.
When the cowboys are rounding up the north end, our vet is busy doing his checks on the ponies in the south corral. The vet team gives inoculations against west Nile and equine encephalitis, deworming, checks hooves and teeth and basically does an overall check. After the vet is done with the southern end, the ponies are released back into the wild and the vet heads up the northern corral to perform the same services on those ponies. Once he is done there, they are released into the wild to roam and await the next round up.